'Aisha'
-Radha Venkatraman, BMC '12
Based on Jane Austen's novel 'Emma', Aisha is the story of a young Delhi socialite, who enjoys matching couples together, whether in reality they do make a good pair or not. Her idea of making a difference in the world is bringing couples who are in love together, and giving makeovers to those whom she feels do not dress, look, or behave the way she does. The only steady force in her life is her childhood friend, Arjun played by Abhay Deaol. He tries hard to help Aisha, played by Sonam Kapoor, find reason in everything that she does. Pinky Bose (played by Ira Dubey), who is her best friend in the film and Shefali Thakur (played by Amrita Puri), both represent women of today who like Aisha are confused, but through the movie realize who they are and what they want. It is only when Aisha distances herself from all her loved ones, does she realize where she is going wrong. Directed by Rajshree Ojha, and supported by a fabulous cast that contains the likes of Abhay Deol and Cyrus Sahukar; Aisha has great music and is India's answer to a chick flick. Fashion and Style seem to be central to every character, but the movie does draw similarities to American chick flicks like Clueless. All in all, a fun film for the youth to watch.  If you do have some time free and want to relax, Aisha is a great stress buster.
~ * ~
'Kites' Review
-Ria Brij, BMC '13

"Kites" is an ambitious venture which aims to fly you high but falls flat on its face. It is the story of Jai (Hrithik Roshan), a man whose main purpose in life is to be rich. He makes a living in Las Vegas by having fake marriages with illegal immigrants so that they can obtain green cards. He pretends to be in love with Gina (Kangana Ranuat) when he learns that she is the daughter of a wealthy casino owner. However, he ends up falling in love with Linda (Barbara Mori), one of his illegal "wives" who happens to be the fiancée of Gina's vicious brother Tony (Nick Brown).  Jai and Linda soon realize that they have involved themselves with a dangerous underworld family, so powerful that they even have the cops of the city under their belt. The real action begins when Tony finds Jai and Linda together, and all hell breaks loose. Jai and Linda are forced to escape, with Tony and the police after them.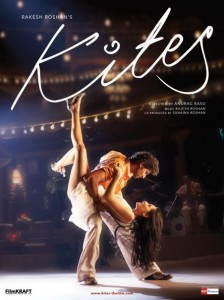 In many ways "Kites" is not your typical Bollywood movie. It is very international in the sense that it takes a huge Indian megastar and pairs him with a popular Latin American actress (the first leading Bollywood role for a Mexican actress). It is shot in US and Mexico, and the entire movie is told in a mix of Hindi, English, and Spanish. It is even made to suit different people's tastes, because you get drama, romantic comedy, and action thriller all for the price of one. Watching this movie reinforces one thing for sure – Hrithik Roshan is a charismatic leading man who knows how to carry a movie. His chemistry with Barbara Mori is spot on and really makes the movie bearable. The cinematography is also spectacular, as the composition of each scene is stunning. The lights, the camera angles, and the scenery are done very nicely. And that's as far as the good parts go…
The movie is much too long, and at times feels like it is dragging on. Scenes from the movie flash between past and present. This becomes confusing. Twists and turns are added everywhere, but don't let this deceive you – "Kites" is the simplest and oldest story ever told. Underneath its somewhat complex exterior, it is really just the classic story of the hero wanting the villain's girlfriend. Once the hero gets the villain's girlfriend, the villain wants revenge. The second half of the movie, in which Jai and Linda are on the run borders on unrealistic and difficult to believe.  Yes, a lot of Bollywood movies pull off chase scenes which are improbable, but "Kites" has to take the cake when in one scene, our protagonists manage to escape a party of at least 20 shooting cops by flying away in a hot air balloon. It continues in this fashion for the rest of the movie, finishing off with an overly tragic ending which will disappoint most. Watch ONLY if you are a die-hard Hrithik fan!
~ * ~
Wandering Taste Buds
Giving you the hoot on local South Asian eats
-Bhakthi Sahgal, BMC '13
For those of looking for a gooood food coma, try walking a few blocks down Lancaster Avenue. My fellow South Asians and food lovers: you have permission to rejoice now, as not one, but two new Indian restaurants have opened up in our vicinity! One of them, which I'll be reviewing today, is the elegant Ekta Indian Cuisine which has opened up its second location here in Bryn Mawr to spread its lovin' across the city from the original Fish Town location. I am guilty of having eaten here many times, and occasionally grabbing a second dinner when walking by.
If you decide to ditch campus food for a night, be prepared for your taste buds to tingle in a ways they haven't in a while (or since the first day of classes). Though the menu only spans one page, there are a lot of options. Besides the list of main course, be sure to appreciate the handsome selection of breads with which to satisfy your hunger. Also welcome the friendly staff. Both vegetarians and those in rather carnivorous moods will be well taken care of here. Some of my personal favorites include the interesting Samosa Chaat as a starter, and the spicy Kadai Paneer and Chicken Tikka Masala. Be bold and try all the sauces-green chili, tamarind, and mango to name a few.
The restaurant's tagline is "The Unity of Indian Spices," which is true on many different fronts. Somehow everything comes together to produce a very happy hum-whether we're talking about the food or the atmosphere. You find yourself eating spirited traditional Indian course surrounded by old world sconces and elaborate murals reminiscent of small European towns. Might this be a play on history?
However you decide to answer that question, here is the scoop:
3 Hoots for Ekta!


The food is a little rich and the menu is predominantly North Indian compared to bigger restaurants. The restaurant is small, so call ahead for big groups.
Check it out!
Ekta Indian Cuisine
1003 Lancaster Ave.
Bryn Mawr, PA 19010