Chaat – A Mouthwatering Taste of India
~ Sowmya Srinivasan '13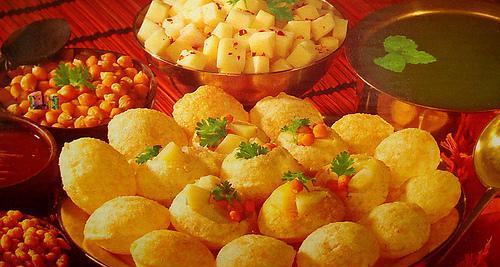 South Asian Chaat is great to read, but chaat is delicious. Chaat is actually the name for an umbrella of different snack foods usually involving potato, yogurt, and a mixture of spices. Most dishes classified as chaat originated in Northern India, mainly in Punjab or Gujarat. As people and tastes migrated over the centuries, chaat has become popular throughout India. People started putting their own twists on it by incorporating their everyday foods into ingredients normally used in chaat. This is how we got the samosa chaat, or the dosa chaat.
Among the many dishes that have traditionally been classified as chaat is aloo tikki, which has spiced potato patties fried to a crisp topped with yogurt and sweet date chutney. Another popular type is pani puri, which is a great finger food. Pani puri is small puris, or puffed crispy pieces of fried dough, stuffed with chaat ingredients. Its defining characteristic is the pani, or water, which is sour and spicy at the same time. Bhel puri is another form of chaat which blends a sweet and spicy mixture often made up of puffed rice and chutney. The other elements used in bhel puri vary depending on where you buy it and can include onions, yogurt, or even chopped mango. The snack is nearly synonymous with the beaches of Bombay, India, where cart vendors sell it in cones made of old newspapers.
One of the best ways to enjoy chaat is to buy it from vendors on the street. Street vendors certainly serve the most authentic chaat, as over the ages chaat has been mainly a street food. It is easily accessible and cheap, making it a perfect food for the average person or anyone just looking to get a quick snack.
Image: Courtesy Google Images