Main Aur Mrs. Khanna
~ Radha Venkatraman '12
This is the story of Salman Khan and Kareena Kapoor, who play Mr. and Mrs. Khanna. She is an orphan and he is a hardworking man and the two fall in love and get married against his parents wishes and are now settled in Australia. Life is beautiful, but then everything changes. Kareena and Salman part ways to make a living. She stays on in Australia while he moves to Singapore. She is all alone and is rescued by the cocky but sweet airport staff cafe boy Sohail khan. He mends the pieces of her broken heart, but while doing so falls in love with her. She though is still in love with her husband and is waiting for him to come back for her. The end is for you to see. Kareena Kapoor looks beautiful in the movie, but her acting skills have been put to waste. Salman Khan on the other hand has definitely done better work in the past. The saving grace of the movie is by far Sohail Khan who has once again with his perfect comic timing proved his skill as an actor. Directed by Prem Soni, this movie does have good music by Sajid Wajid, but leaves much to be desired.
Paa – A Father-Son Story
~ Reetu Bajaj '12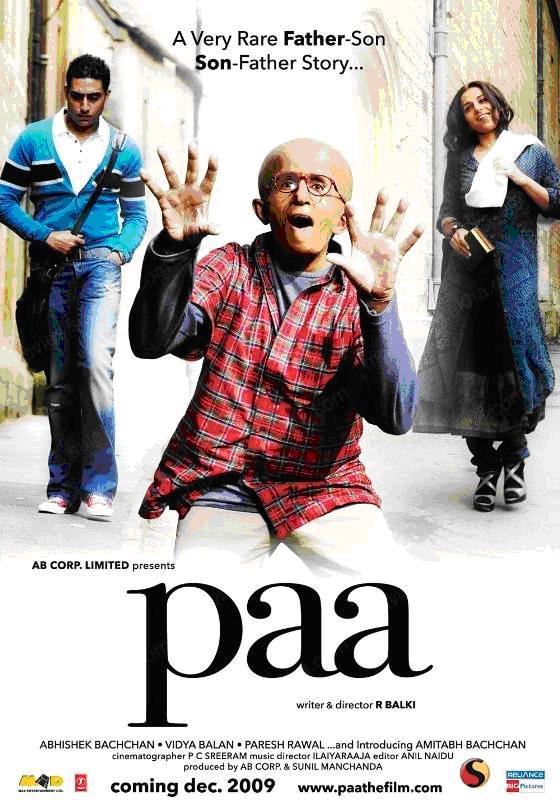 Paa is definitely one of the most talked about films this year for it stars a father-son duo: Abhishek and Amitabh Bachan. Some feared that Bollywood legend Amitabh Bachan was losing his spark after his poor performances in Jhoom Barabar Jhoom, God Tussi Great Ho, and Aladin. But he shocks and awes viewers in his character Auro, a clumsy, geeky, and very different teenager who was born with a genetic disorder that causes him to age prematurely (some influence from Benjamin Button there?). The movie starts off with the love story between Abhishek and Vidya Balan and is followed by their marriage and birth of their son. The movie gradually moves into the focus about a father son relationship. It is this interaction that touches your heart. Abhishek's and Amitabh's performances set off sentimental feelings filled with laughs and a sense of longing. Vidya Balan gives a rare and strong distinction to the image of the Bollywood mom. Filled with fun music sequences and witty dialogue, Paa is definitely a movie for families to enjoy.
Image Courtesy: Sulekha.com